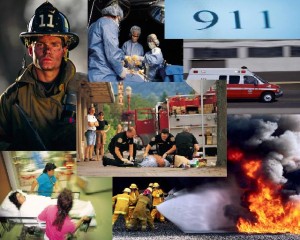 If 911 Used Social Media
What would it be like for our emergency and police stations to use social media? What would that look like? I want to explore that thought and what I see as the inevitable evolution of our emergency centers. This system would allow citizens to take an active role in community building as long as we, the community, use the right mindsets when reading and responding to reported emergencies and crimes.
With Twitter, Microsoft Vine and Google Wave emergency responses can happen live. Lets say a you just witness a robbery and tweeted or texted it into 911. Your GPS location would be recorded and response vehicles could get on their way much more rapidly. It could bounce from the 911 operator and go to a police car's news feed inside the car with an assigned category and priority level for the police officer to respond to. The FCC requires that all new mobile phones have either a GPS chip or triangulation capabilities so that in emergencies each calls location can be found. The Next Generation 9-1-1 initiatives are moving to allow any wired, wireless, or IP-based device users to text, upload images and video to 911 call centers. The platform is already being put in place.
The power of a live social system is that those same messages going to the emergency centers could be pushed out to social networks, twitter, blogs, and Microsoft Vine to alert people that are in and around the area.  How many trained fire fighters, police officers, doctors, nurses, veterans etc… do you think are in any one given neighborhood and are oblivious to the emergencies happening around them due to our current slow style news and alert systems. That time is no more. Now using the power of live social media the emergency call centers can put forward an opt in alert system. For the citizens that plainly want to see what's happening around them – to the trained citizens ready to be on call and help their community, this system could speed the response of community efforts. We would see trained citizens being the first on the scene to save people from burning buildings, resuscitate the struggling, report the direction and / or apprehending criminals. Any young, ambitious 007's or Laura Croft's out there getting excited?
I can see the cons already. Herds of rubberneckers with nothing else to do wandering over to watch instead of help. Therefore clogging the streets and holding up the professionals from doing their job. Is this normally a problem when lots of people crowd around burning houses or see emergency vehicles collecting in the streets? Or have crowds been more helpful from the police and emergency response team perspective? Maybe there needs to be some extra training in public schools or with the software on how to use this system to it's full potential. Also certification steps could be in place to verify and allow more specific content to flow to the citizens that have been trained in specific areas of expertise. However I vote against that as it would slow down how rapidly the system is adopted and limits the people who have basic CPR training from getting to the scene.
All in all I think the benefits outweigh the costs.  This trend is inevitable.  Whether it gets support form Emergency Call Centers or not people have the option to alert their social networks.  Involving the Emergency Call Centers would help add more structure and organization to the system.  This type of technology also lines up with President Obama's attempts with serve.gov and BarackObama.com to spark more community building efforts. Personally I would love to see more of a technology budget towards this kind of stuff instead of being allocated to our Military efforts.
Let me know your thoughts. What other benefits can you think of? What downsides are there? (Yep I want to hear the conspiracies too). Further comments?