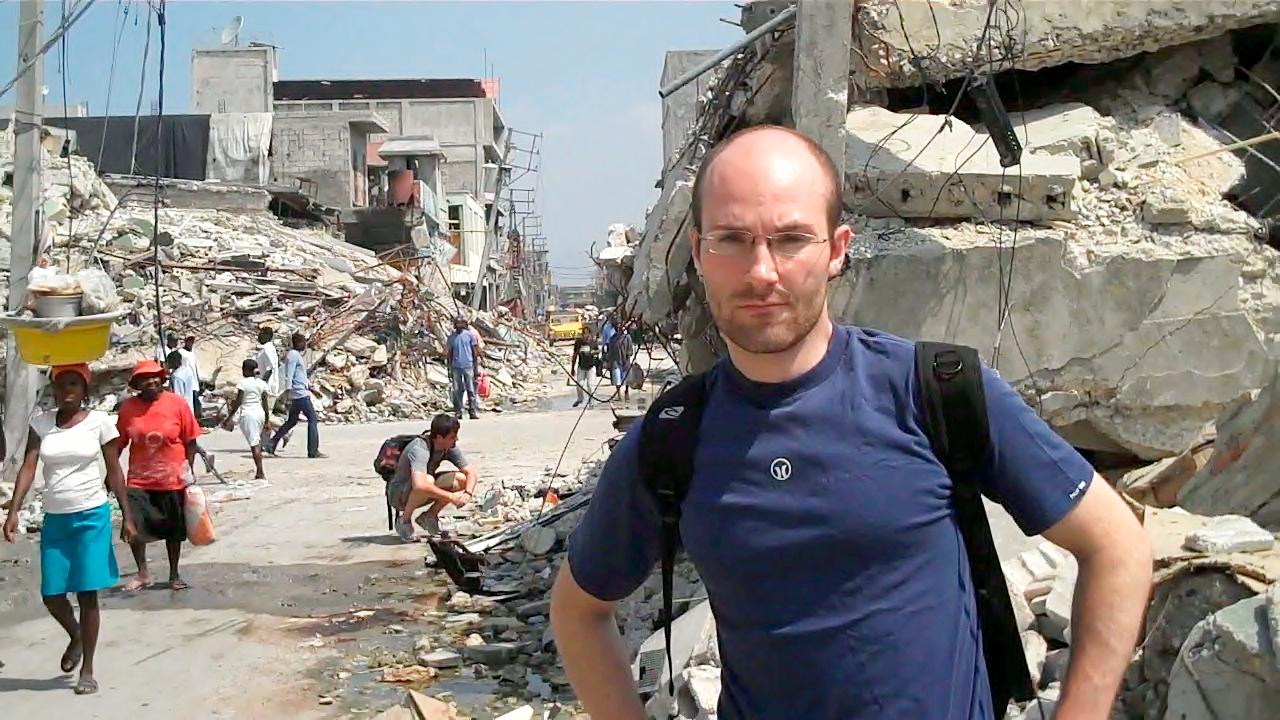 Live Feed from Port au Prince, Haiti; March 2010
I had the opportunity to go to Port au Prince, Haiti March 13th to 18th with We Hear Your Voice sponsored by StartupWeekend.org and Piryx.com. My initiative was to put together an intelligence report on what the internet connectivity was like there on the ground and get a live interactive feed setup the night we arrived so we could interact with the SXSW after party Piryxtopia, sponsored by Piryx.com, StartupWeekend.org and Microsoft.
I emailed cell phone providers, ISP servers, looked into VSAT possibilities and emailed other non-profits on the ground to assess the situation.  We had options but the connections were unreliable.  We ended up getting in contact with the Mission for Hope Haiti where it sounded like I'd have the bandwidth I needed.  As soon as we arrived at the Mission for Hope I asked questions about the internet so I could test and get setup.
I was able to get a live video feed through on our preliminary tests. During the start of the show we lost our video and had to go voice only.  The host at the party asked us questions about what we were seeing on the ground in Haiti so that the crowd could hear what was happening. After our stay at Mission for Hope, we moved to a central location in downtown Port au Prince near the epi-center of the quake. It was night and day difference. The city was in ruins. we stayed in one of the houses that was still standing while houses around us were fully or partially collapsed. I was with an amazing team of people that included the founders of We Hear your Voice, the director of the Emmy nominated CNN Heros episodes, an audio technician from Spiderman 2, EVP Development of Parlay Media, local police escorts and military access to every zone we went into.
Here is a video that I edited together of the flip cam videos I took with some as well from the co-founder of We Hear Your Voice, Justin Yarborough.
While I was there I got to know a local by the name of Marc Gregoire. He also goes by DJ Gre. He had an internet connection over a WiMAX vonage connection. People form the neighborhood can around and paid him to use the phone.  The last night we were there he threw us a party in the streets by wiring up a speaker system to a car battery and plugging his laptop into it so he could DJ for us.  Another car parked perpendicular to the sound truck and it made a square dance floor.
I had an amazing time. Feel free to look through some of the photos:
.

Here is a list of ideas I had for businesses, tools or other things that the locals could do to rebuild:
Food and water distribution (I was wondering ideas on how to improve this. The water flows 2 times per week from the government and fills reservoirs in peoples homes. Other water flows into the streets to flush garbage and sewage. People in tent cities and on the streets catch this water into buckets and use it.) Jobs could and should be created around this vital need.
Building temporary housing and setting sanitization standards in the camps, through education and by routing wastes to sewage systems.  There were feces in the streets and people would go to the bathroom on the sides of buildings.
Rubble Recycling. There is rubble everywhere. I saw kids collecting and cutting bricks with a machete to resell to people rebuilding houses. Also they collect re-bar and bend it to sell. If there were a better system in place to recycle the old rubble and turn it into new building materials that would be a viable business.
Construction and Clean-Up. There is a need for lots of construction and rebuilding that follows good building codes. Most Haitians neglect the codes and hire friends to build there homes. This contributes to the amount of houses that collapsed.
Education system. I met teachers and students that both wanted to be in school, but they had no place to go. I wondered what type of education system could be launched in Haiti while the rebuilding is happening. I have high hopes for online education. Haiti has a strong internet infrastructure that is marked up by the main companies that have somewhat of a monopoly on the system. I can't help to think how could this system could aide with education through the web.
Build a plastic recycling center. Not sure what this takes but plastic bottles and trash is EVERYWHERE. They put it in large piles and burn it. After coming back my bag and I wreaked of burnt plastic. If a recycling center and collection system were put in place with incentives (like money), then I know lots of the street beggers would revert to recycling to make money.
Internet cafe's and phone call centers. There was a high demand to use the phone first and foremost. Then second was to use the internet. I sat at an internet and phone cafe that had one phone and one ethernet connection. All day people would come and pay to use the phone. The people there had a WiMAX receiver and a Vonage phone system they were using. The internet speed was about 500kbps download and 50kbps upload.
These are very underdeveloped ideas, and some are made off of not enough information. Lots of research would have to be done to truly qualify each one.