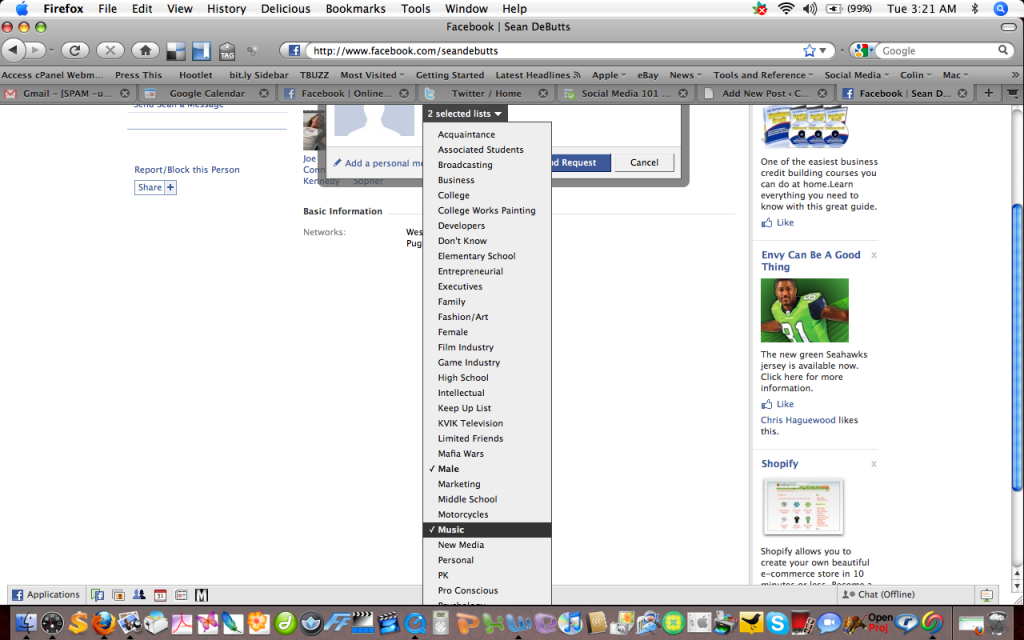 My facebook Categorization / Filter Process, Led Me to a Bug
This is a bug report / email that I sent to facebook. I setup lots of filters on my friends so that I can choose what demographics, Industry, past groups of friends from school, area of expertise they are in etc… to keep up with what they are all up to. My list has grown to 36 filters with each person, on average, being in 4 filter categories.
Below is the basics of the problem with screen shots. Basically if the list runs off the screen you can't scroll to select the lower filter or else it will glitch up and select the wrong one.
As seen below the list of filters runs off the screen.
I can scroll down to select the filter that is off the screen but when I select it…As trying to select Social below….
The system puts a check next to Music instead. Grrrrrrrr…
As a result I have to Hide my Dock below along with the navigation bar and bookmarks bar in the browser.
Then I am able to select the filter that I want without scrolling down and voila! I have taken 30 seconds to do what should have taken 3 seconds!  So based on the Life Expectancy Calculator I have 54 years left.  I average about 3 new friends a week, so at 2815 weeks in 54 years left I will have added 8,445 new friends. That's 228,015 seconds or ~63 hours of my time gone just to play with the settings if facebook doesn't fix this bug. Come on facebook, be a pal.
I love the filter concept and know I use it more thoroughly than the average user.
In the future people should be able to add themselves to filters so when I add them as a friend they already have recommended filters / categories.  facebook could standardize some for people to select based on demographics, the Industry we work in, and job.  Or find a way to automate this by crawling a persons profile to determine the topics, linkes, and things they like center around.  That way when I want to see search results or filter my friends, I can easily select the "daily social newspaper" that I want.  Blogs already have these categories / tags. Profiles and Individuals should too.
P.S. Twitter I would love you if you did something like this too instead of having the 3rd party apps do it.